La Primula di Rosanna
prodotti tipici sardi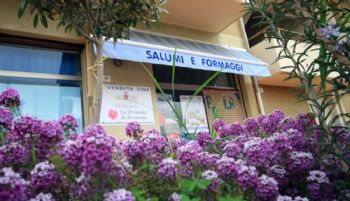 A casket of perfumes, an explosion of flavors, this is The Primula Rosanna. Here you will meet tradition and typicality in a mix of selected products and selected directly from Rosanna, from dairies, delicatessens, butchers, confectionery, and the best wine productions.
So here in beautiful meat exposure, cheeses, pastries, breads, wines and digestives, including the classic Mirto, which are all a department where you can choose with ease, always recommended and followed by Rosanna, with the professionalism and friendliness that characterizes and has led it to be a reference point for an extensive clientele that demands for their food the best on the market.
A department is also dedicated to organic products, confirming maximum attention in key authenticity.
The Primula Rosanna is situated along the main street entrance to the village of Santa Teresa Gallura, on the left where, at an angle, you can see the windows of Immobilsarda; we arrived, We park the car and enter to leave intoxicated by the scents and flavors of this workshop which is the exaltation of the traditions of Sardinia at the table.
Indirizzo:

via Lu Calteri 6

Località:

Santa Teresa Gallura

333.3087693