Gioielleria "La Corallina" di Cicerone
two generations of passion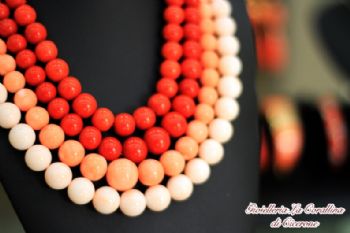 A nice long 40 years the history of Gioielleria "La Corallina" di Cicerone which begins ... from the seabed!
That splendid Gallura sea full of red coral that has always accompanied Cicerone dad's life. A passion, an art which has since become a profession, told in the shop windows and shop in Via XX Settembre, the main street of Santa Teresa Gallura.
From the main square, home to events and hub of the country, as soon as you enter this pedestrian street, full of many activities perfect for shopping, on the right you can see a series of small great works of art in coral that are proudly showcase under the 'teaches that bears the name of an institution teresina: Cicerone.

The fine workmanship of the coral, the next step to his collection, is expressed in the maximum of his art and craftsmanship in some pieces that are real works, unique and stunning in their beauty, displayed in the window to draw the attention of the most careful and connoisseurs of coral. Inside the store are beautiful space and location and selected several pieces of high class and quality, carefully chosen by Laura representing the continuity of this passion, two generations who make art and jewelry, the common denominator.

His brother Andrea, who graduated in Italian Gemological Institute Analysis and classification of Diamonds, worked in the activity carrying out careful and professional appraisals of jewelry and precious.
The visit to Gioielleria "La Corallina" di Cicerone is an inevitable stage in the living room in Gallura, not only for the beauty of its exposure, but also to breathe a bit 'of history and local tradition.
Indirizzo:

via XX Settembre 4

Località:

Santa Teresa Gallura

+39 0789.754364